Mission:
To provide funds for a one time scholarship, awarded yearly during the Broward County Athletic Association Awards Banquet, to one selected scholar-athlete each from Blanche-Ely High School, South Broward High School, and Stoneman Douglas High School. This is to represent each of the three schools Chris Hixon had a direct impact on during his tenure in Broward County.
Vision:
Helping further the education of student-athletes.
Objectives:
Establish a fund where donations can be easily transferred to in order to provide for the scholarship.
Network with the communities within Broward County, and eventually further, to organize events to raise funds for the scholarship.
Market ourselves both physically and digitally to make ourselves known and establish a presence.
Establish lasting relationships within the community to ensure the scholarship can continue indefinitely.
Honor the legacy of Chris Hixon.
Criteria for Eligibility:
Must be a Student-Athlete in BCPS. A total of four scholarships will be given, 1 for each of the following: Blanche Ely HS, South Broward HS, Marjory Stoneman Douglas HS, CountyWide.

Must have an unweighted GPA of 3.25 minimum.

Must be pursuing higher education upon graduation. Either traditional post-secondary education or technical career institute.

Must have a minimum of 50 volunteer hours.

Must submit two letters of recommendation: one by an athletic coach AND one by a teacher, mentor, guidance counselor, or principal.

Must submit a personal essay of why they feel they deserve this scholarship. Describing sports played, academics, organizations, service to the community, short and long terms goals, and any other unique aspects that they feel would qualify them as an outstanding student-athlete and a citizen.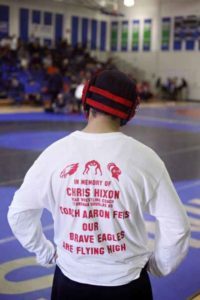 Values of Candidates:
We are looking for the best of the best student-athletes as someone to best represent the kind of person Chris Hixon was. We are looking for someone who is just as involved on the field as they are off the field and in the classroom. Someone with a passion for service towards others, leadership, school and community involvement, and citizenship towards our nation.